Michael Snow, the director behind some of the most acclaimed experimental films of all time, including Wavelength (1967) and La région centrale (1971), passed away yesterday, January 5th 2022. He was 94.
He was one of the key structural filmmakers, a movement looking at creating simplified or even "predetermined" cinema. His 3-hour La région centrale, sometimes seen as his magnum opus, was shot with a robotic camera placed on top of a mechanic arm, moving based on a program written by Snow himself. Meanwhile, in Wavelength, the camera never moves but slowly zooms in towards a photograph on the wall of a room with a dead body, as voices and sounds give the slim outline of a story.
While certainly divisive and not for everyone, Wavelength sports a healthy 5.4/10 on IMDb, while La régione central has a more neutral 6.2/10, both films are considered among the key works in the cinematic canon, ranking 232nd and 566th of all time according to They Shoot Picture's Don't They, which is an aggregate showcasing the best-regarded films of all-time based on their presence in reputable lists.
Other key titles by Snow include <—> (1969), where the camera rocks back and forth in an empty classroom, with certain surprises and tricks along the way, 'Rameau's Nephew' (1974), a look at the absurdity of using sounds to communicate, So Is This (1982), consisting solely of white letters on a black background with no audio, but plenty of humour along the way, and *Corpus Callosum (2002) where Snow played with our senses in terms of what we are even seeing.
Michael Snow was not only a director, he was a sculptor, painter and professional jazz musician. Beyond his own work, key directors such as  Chantal Akerman, Peter Greenaway, Derek Jarman and even Martin Scorsese have cited him as an influence, and he is likely to influence many future artists for generations to come.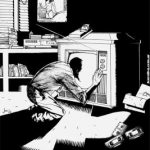 Sol Hyphen is the co-host of the bi-weekly cinephile podcast Talking Images and a writer for iCinema Magazine.