If I learned anything from binging 86 films over eight days during Seattle's Queer Film Festival, it's that the 90s are back when it comes to fashion.
Okay, so I may also have learned a whole lot about the lives of queer folk from around the world, but the overalls and scrunchies made my heart happy. Produced by Three Dollar Bill Cinema, the 26th annual Seattle Queer Film Festival was hybrid this year, playing at theatres in Seattle and online for audiences in Washington, Oregon, Idaho and Alaska from October 14-24.
There was a time in queer history, not even so many years ago when queer people were so desperate to see images of themselves on screen that it almost didn't matter if those images were overwhelmingly negative.
In fact, gay activist Vito Russo spent years watching popular and forgotten films in order to write "The Celluloid Closet," which critiqued the way Hollywood portrayed queer people on screen, and the way those stereotypes and sometimes downright mockery shaped peoples' perceptions of gay, lesbian, and transgendered people (forget the other identities, they weren't even included in the imagery back then).
Even just 15 years ago, when I was first starting to understand my own sexuality, I had no idea where to turn in order to find stories that would resonate with me. Too bad I didn't know about the Seattle Queer Film Festival then.
Suffice to say, I was giddy at the glut of queer films offered on the 2021 festival slate and I'm not ashamed to say I gorged myself. I didn't make it all the way through the 39 Feature films and 100+ shorts, but 86 ain't bad.
Here Comes Everyone
One of the most impressive features of the program was how inclusive it was.
Many props to the Three Dollar Bill Staff and volunteers who obviously made an effort to include as many different types of stories from as many different types of queer folks as they could find.
There were trans men, trans women, non-binary people, bisexuals (like me!), people living with HIV, people living with disabilities, wealthy people, two-spirited people, slam poets, regular poets, dancers, indigenous people, and drag queens galore!
There were films from our home, Seattle, and all over the USA and Canada; also Brazil, China, Cuba, France, Finland, Estonia, Switzerland, Germany, Ireland, India, Spain, Puerto Rico, Peru, Namibia, Israel, the UK, Taiwan, and even a bit filmed in Cameroon.
Unlike mainstream Hollywood films, at least half appear to be directed by women.
And, for someone obsessed with gay history, I personally appreciated the historical documentaries, but the range of timeframes was wide, from the early 20th century far into an imagined queer future. There were stories of people as young as six to so late in life it was time to say good-bye forever.
There were sexy stories and sad stories (gay folks are good with the sad stories), and scary stories (we're not great with these yet), and happy-get-off-the-couch-and-dance-around stories (these are new but we're finding our groove).
Two types of stories I was looking for but didn't find (either because they weren't part of the lineup or I just didn't get a chance to see them) were about people who are born intersex and people who are asexual. But, there's always next year.
My Favorites
There were some excellent movies which I rated 5 out of 5 stars.
My favorite feature was The Best Families (2020), a Peruvian film directed by Javier Fuentes-León. It was the story of three intertwined families who come together for a meal and begin to uncover many long-buried secrets. It deals with class issues, sexuality, and family acceptance—and it's a complete riot to watch. Special shout outs to Moon Manor (2020) directed by Machete Bang Bang and Erin Granat, and My Fiona (2021) directed by Kelly Walker.
My vote for best feature documentary was A Sexplanation (2020), by Alexander Liu which is about the failure of sex education in the U.S. (I think I related to it a little too much).
I also really enjoyed Baloney (2021), directed by Joshua Guerci which tells the story of San Francisco's popular all gay, all male review (fun fact: it is neither all gay nor all male.).
My favorite shorts set was 10 Ways to Survive a Pandemic which included almost universally incredible films but I specifically want to mention "Dreamer," directed by Stephanie Osuna-Hernandez and "Disconnected: The Musical," directed by Dickie Hearts.
My favorite documentary short was part of the Black & Queer in America set and is titled "Out of the Dark: Akeem," directed by Sarah Klein and Tom Mason.
Also, special love to my second favorite narrative short that was part of the Girls Grrrls Gxrls set titled "The Only Beautiful Thing," directed by Elizabeth Irwin.
If you get a chance to watch any of the incredible films, take it.
Audience Choice Awards
Are my favorites the same as what was revealed through the Audience Choice awards? Nope! But I can't disagree with my fellow viewers' choices and I'm happy to share the names of those films too.
The SQFF audiences' favorite narrative film was Bliss, a German film directed by Henrika Kull. Even though it was only my second favorite, I gave it 5 stars too because the characterization and acting were incredible, and I thought the director created a tremendously accurate portrayal of the realities of prostitution.
The SQFF audiences' favorite feature documentary was Gemmel & Tim, a film directed by Michiel Thomas which is about the lives of two gay black men who overdosed in the apartment of a gay white man, and the struggles their friends and families were willing to undertake to make sure justice prevailed in a society that doesn't value queer black lives the way it should.
Other audience and staff favorites included Mascarpone, directed by Alessandro Guida and Matteo Pilati; Firebird, directed by Peeter Rebane; No Straight Lines: The Rise of Queer Comics, directed by Vivian Kleiman; and Sweetheart, directed by Marley Morrison. All are films (except Mascarpone which I'm sad I didn't have time to see) I rated highly and recommend.
Workshops and Events too!
There were in-person workshops and events, though due to distance, I was only able to participate in the virtual "How to Be an Effective Ally" workshop, led by Anastacia-Reneé, whose poetry and acting skills were showcased during the festival in her short film, "Alice in Parts."
The workshop was interactive and full of useful advice including the formula for being an ally: a + a + a=ally. Translated: acknowledge + apologize (within reason and if you were the wrongdoer) + take action.
Whether your hopes are to be an ally to LGBTQIA2+ persons or an ally for racial justice or for folks with disabilities, we learned that an ally is someone who takes actions to support the rights and dignity of others who are being mistreated either personally or systematically.
Next year I'm hoping I might be able to take part in even more of the in-person events like the Opening Night Party or the Queer Trivia Showdown.
Thanks SQFF–I'll See You Next Year
I am already looking forward to next year's SQFF. Until then, I'll spend time catching up on all the great queer movies I haven't seen yet.
If you'd like to know more about Three Dollar Bill Cinema, sign up for their newsletter, or see a full list of the many films that were part of this year's program, visit their website at threedollarbillcinema.org. They have some other great programs coming up too, including a Virtual Indigenous Showcase, a Mommie Dearest Audience Participation Screening, and Translations: Seattle's Transgender Film Festival 2022.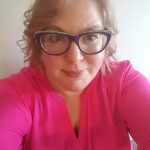 I've have had a life-long love affair with stories--writing, reading, or watching--I do it all.