Whoever said that lines delivered flat, without any emotion – composure held – faces still – can not deliver a punch? Maybe no one ever did; as it has been proven time and again to be false. However – this is not Bresson's monologues – but the recitation of real reports and letters – at first awkwardly amusing – but shortly, increasingly disturbing.
Uppercase Prints takes, from the archives, the real story, and the real words, of a massive investigation into who wrote slogans – yes, in UPPERCASE PRINT – on walls in Bucharest in 1981. This criminal act sets forth an investigation with hundreds of informants, countless police offers staking out suspect areas – and increasingly bizarre reports – including letters from regular people and their reactions to the words/phenomenon.
The visual world Radu Jude creates here – is as if Godard's The Joy of Learning – was blown up at a larger scale – and policed into an incredible Brechtian theatre. Standing in front of walls decorated merely by a recorder, a TV, and other baseline characteristics giving a mild inference of context – lighted up with strong colours – our "characters" recite their reports, letters, notations – as the reality of life in 80s Romania becomes increasingly clear.
This is interwoven with real footage from the TV stations at the time – connecting the real reality of political suppression – and a horrifying big brother – with lighthearted fare, calls for patriotism and odd, "playful" ways to lull people into following rolls – such as a clip from a comedic segment with police issuing fines for honking. It all creates a simultaneously surreal and real underbelly that becomes stronger and stronger as the stakes get higher.
Though based on the documentary play by the same name, it should have been clear already, but Uppercase Print truly cements Radu Jude as one of the great cinematic masters of our age. Throughout his career he has been in a conversation with history – examining the persecution of Roma people in Aferim! and exploring the rise and then essentially love of fascism with Scarred Hearts and I Don't Care if We Go Down in History as Barbarians.
It is exciting to see just how well he commands every style he handled, from Aferim!'s epic scope, comparable to The Saragossa Manuscript – or even Samurai tale – only placed in Feudal Romania – to the restrained minimalism of Scarred Hearts – to his explosive meta film "I Don't Care …". Uppercase Print takes these meta elements even further – creating a meta essay that both dissects, contextualizes and dramatizes real events – the outcome – and leaves you with a real feeling of utter unease. The ending scene is particularly strong, and plays further with the ideas of breaking down all walls and making it clear you are watching and interacting with a film – as well as history – and as each representation could be seen as speaking directly to you – you are an active participant.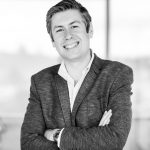 Christoffer Odegarden is the co-founder and editor-in-chief of iCinema Magazine. He is also the host of the bi-weekly cinephile podcast Talking Images.